W hen it comes to green interiors, the Green Building Council South Africa's very own green office space is a constant source of inspiration. The principal agent, interior architect and designer on this project, who ensured the project got a Green Star Interior certification, was Collaboration.
We asked Geoffrey Bennett, Design Director at Collaboration to share his insight on bringing sustainability into interior design. As a member of the GBCSA and IID, Collaboration has been involved in a number of projects that have achieved Green Star Interior ratings, and sustainability plays an important role in all their designs.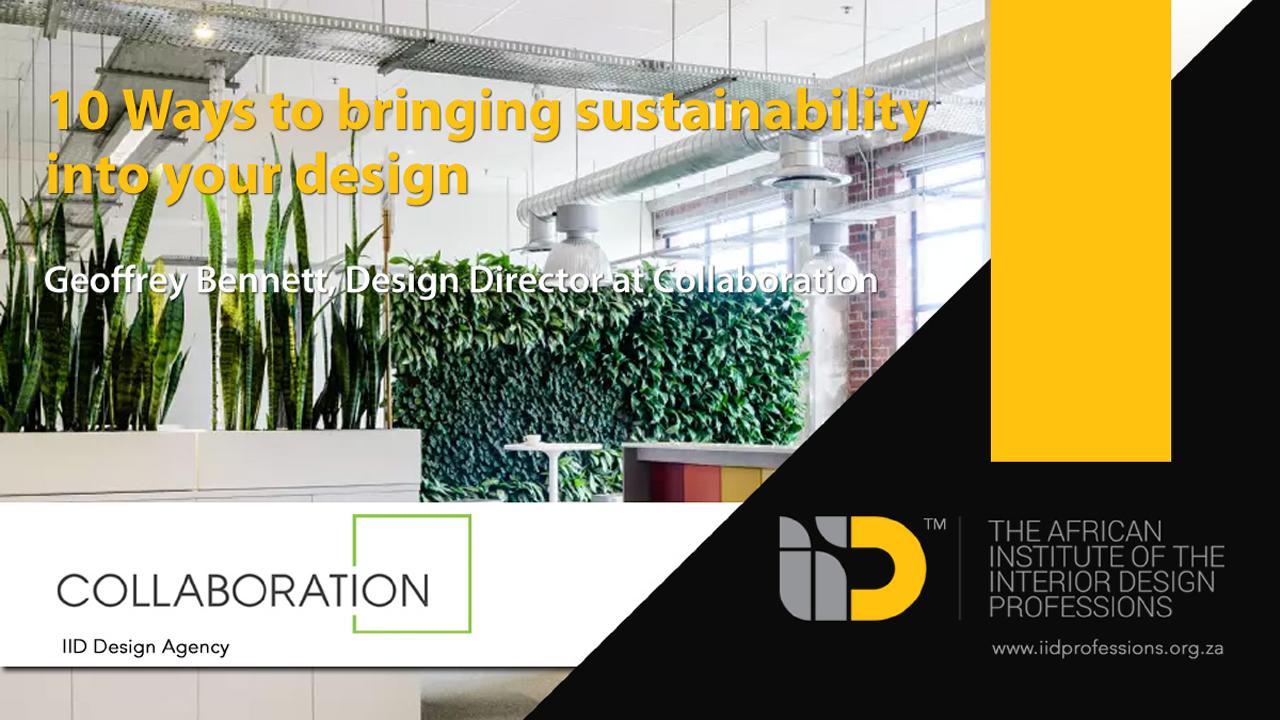 "There are various ways to bring sustainability into your design of an interior space, and key principles to follow when designing a 'green' interior," says Bennett. These are:
Building Selection
We are often asked to assist our clients with the selection of new premises for their company. We evaluate the selection based on the new building's proximity to amenities like shops, restaurants and most importantly, good links to public transport. Often landlords of a new building would have the building Green Star designed and rated, which automatically makes for a good building selection, environmentally speaking.
Spatial Layout
When designing an interior space, it is key to consider the arrangement of your layout and place both the enclosed and open spaces in the most appropriate locations based on orientation to the movement of the sun. For example, placing meeting rooms on the northern and southern side of an interior and meeting or social spaces on the eastern or western side of a floor plate where possible, to prevent heat gain and using large amounts of energy to cool or heat the interiors.
The layout of the space can also create healthy habits by forcing the user to move through the space. Location of print stations and pause areas for example, can promote exercise and create social interactions.
Quality of Spaces
Two of the most import factors in an interior are visual and acoustic comfort which define how the quality of space can be evaluated. Acoustic comfort deals with how sound is absorbed in a space leading to a quieter interior space, and visual comfort is the ability to have access to views and natural light as much as possible. Both of these factors are essential in the wellbeing of the occupant.
The Design
The design of the interior should allow for a variety of spaces that support collaborative or individual working and should allow for a change in posture during the course of a working day. The ability to do focused work when needed is a vital component of a good design.
Energy
It is vital that when specifying a sustainable interior from the start that you look at all equipment and fittings that consume power and ensure that they are low energy use and that they can also be controlled effectively where possible. This relates to what air-conditioning system is specified and how it is controlled, as well as lighting. Lighting is one of the most important elements in bringing an interior to life and LED technology has advanced at such a rate that there are various options to choose from that are not only beautiful, but are low energy use and have a good quality colour rendition of light. All appliances like fridges, and IT equipment like printers and monitors must be energy rated to ensure low energy consumption.
Water consumption
Any plumbing fitting like a basin mixer, and any appliance like a dishwasher, that consumes water must be low water use rated. These days most modern fittings and appliances come with clear use ratings.
Materiality
Materials all have specific lifespans and are either recyclable or end up as landfill. It is therefore vital that you consider the lifespan of the materials you are specifying and ensure they can easily be disassembled and reused when moving or are no longer required. This does not limit a design in any way in terms of choice, but it does mean that product knowledge needs to be clearly understood before specifying a material. Timber is a good example as it needs to be certified that it has been responsibly sourced from a sustainable forest.
Recycling
Recycling is key in preventing recyclable waste being sent to landfill and is an easy way to include a 'green' element into your design, by including this in your kitchen or print station design. This is best practice.
Furniture
It has become easier to select sustainable furniture for your interior. Most 'green' products are rated with a trusted certification like Global Green Tag. If the furniture piece you would like to use does not have 'green' certification then one needs to assess how long the piece will last in terms of durability, whether it is made from natural materials that are sustainably sourced, and whether the furniture piece can be recycled or repurposed at the end of its life. All furniture must be selected based on being 'fit for purpose' and ergonomically support the activity or function of the users.
Biophilia
All humans possess an innate tendency to seek connections with nature and other forms of life. Interior planting or landscaping regardless of size or form is a vital element which brings life into the interior, has a calming effect and increases the users feeling of wellbeing. Plants also help absorb sound if planted in a large format like a living green wall. Plant installations can also be an artistic element in the interior and brings visual interest into the space, depending on the design and plant selection. There are many beautiful options to choose from.
"Designing a green interior is the appropriate design option, and it's exciting. It is the responsible way to design for your client needs and help protect our natural environment," concludes Bennett.
For more information on the GBCSA's Green Star Interiors rating tool, and to see the scoresheet, visit the website, here. This tool rewards high-performance tenant spaces that are healthy, productive places to work; are less costly to operate and maintain; and have a reduced environmental footprint.